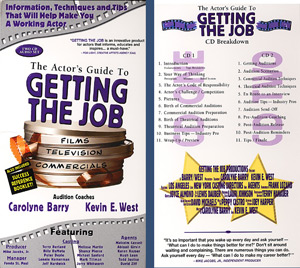 GETTING THE JOB is an audio product (available on a set of two Compact Disks) specifically created for both the actor who is ready to start getting work in television and Film and the professional working actor who wants to increase their booking ratio. GETTING THE JOB is an invaluable tool for those who have made the career choice to pursue Film, Television, and Commercials.
Carolyne Barry and Kevin E. West are the creators and producers of GETTING THE JOB. They are also its commercial and theatrical authorities. Their years of experience in front of and insights from behind the camera give them the expertise which makes GETTING THE JOB an empowering program for the actor.
There are numerous reasons this unique actor's product is bound to be a perennial seller!
GETTING THE JOB is the first and only product designed for the actor to play on the way to and from their auditions. It is a personal audition coach, covering Commercial, Film and Television business aspects and audition techniques. Its format and content are powerfully effective for actors in both major and local markets, as well as Canada.
GETTING THE JOB features endorsements and invaluable professional tips from top casting directors and agents. That is coupled with a well-crafted mix of inspirational quotes and informative Biz Tips, which make for a compelling two-hour listening program.
GETTING THE JOB conveys information that is fresh and accurate for 21st century actor competing in today's showbiz world.
In addition, GETTING THE JOB contains a handy "Success" booklet to allow easy reference to some of the pertinent information on the tapes.
Carolyne Barry and Kevin E. West are very active in the Los Angeles entertainment community through their careers, their organizations and their own network of industry friends and players. This guarantees that GETTING THE JOB will preserve its viability now and in the future.
There is not another product on the market designed for the performer that even comes close!
Industry Endorsements
"Getting The Job is an innovative product for actors, that informs, educates and inspires – a must have."
Rob Light – Agent at Creative Artists Agency
"I've know Carolyne Barry for 25 years, she's been a splendid teacher and I'm really glad that she's done this CD so that more people can benefit from her knowledge and her experience."
J. Michael Bloom – Theatrical and Commercial agent
President of his own agencies in both Los Angeles and New York
"Carolyne Barry and Kevin E. West are the two perfect people to be the personal audition coaches for most every actor, these two know what they are talking about. Listen to them."
Billy Damota – L.A. Film, TV and Commercial Casting Director
"Concise, immediate, to the point… I believe this CD to be essential to every actor's personal training program. Before you go on any audition, listen to twenty minutes of this CD… you will increase your chances on getting the job."
Karen Kayser – New York Commercial Casting Director
"From my point of view Getting The Job could help every actor become a working professional."
Lisa Cinelli – Commercial Agent at Arlene Thornton Agency in Los Angeles
"An actor could save themselves years of frustration and thousands of dollars by purchasing this CD. I highly recommend that every actor get this CD and play it on the way to all auditions."
Beverly Long – Los Angeles Commercial Casting Director
"Approach the business as a business. I think the most important thing a person could get from this CD, is if you're not committed, the next person will be."
Jerry Whitworth – Independent Feature Film Casting Director
"Getting The Job will guide actors along the right path."
Hugh Leon – L.A. Commercial Agent at the Coast to Coast Talent Group
"Law is taught by lawyers, medicine by doctors, architecture by architects and engineers and theatre is invariably taught by English majors who've never been there, never done that."
"This CD will give you the information you really need."
Malcolm Cassell – L.A. Commercial Agent at the Tisherman agency
"I believe this CD will give them the tools they need to forward their acting career."
Abigail Girvin – L.A. Commercial Agent at Dorothy Day Otis Agency
Order CD / Podcasts
To Order please follow this link. http://gettingthejob.com/order
To view podcasts follow this link. http://gettingthejob.com/blog/category/podcast